Quilting on the Go – English Paper Piecing Projects You Can Take Anywhere
Overview
Recently I mentioned that I had found this book, Quilting on the Go and was looking forward to creating a project from it.  Well, I have read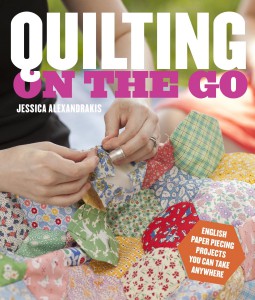 through the entire book prior to deciding what I wanted to start with.  I want to tell you how much I appreciate how easy to read it is.  The writing is conversational, without being stuffy.  Anyone can follow it.  The author, Jessica Alexandrakis, shows how easy it is to create her wonderful projects.
She discusses how she got started, how to create your own travel tool kit (sewing kit with special items), about finding fabric, and then goes on to discuss specific items you can make and how to go about them.  All of the directions are easy to follow.
Opinion
As someone new to this technique of quilting, I have been very impressed with how well laid out each section is.  I have decided to attempt to make the hexagon pillow and will follow up with blog postings along the way.  Ms. Alexandrakis also has lists of resources in the back of the book, which helped me to find the templates I need to complete my pillow.
Although I am still in the process of creating my project, I highly recommend Quilting on the Go.  For me, this is a wonderful introduction to a form of quilting that goes back for centuries.  Looking forward to following up with more as time goes on.
6 Comments