Hi there!  This is Alison again.  I have been going through my projects and realized that over the past year or so, I have purchased a number of items for projects that I have either started or never started.  Some are mostly complete, but not yet finished, and some have not even been started.  Are you the same way?  Do you buy something saying, "Oh, I can't wait to get started, but first let me do this."?  I know I do.
How many works in progress do you tend to have at one time?  Are they all within the same area of crafting, or are they a variety?  Personally, I currently have a bead crochet necklace and a crochet scarf to complete.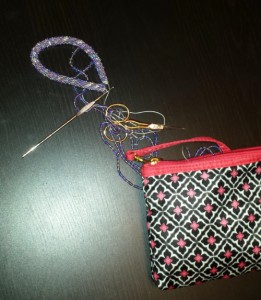 I also really want to learn English Paper Piecing, which if you don't know, is a form of quilting that is easily done by hand.  The main reason I want to learn this is because unfortunately I lost my sewing machine in Superstorm Sandy, and due to currently living in a small one bedroom apartment, don't really have the space to set one up.  So, my next big project is to teach myself to quilt using English Paper Piecing. I have a book with step by step instructions, and it seems very easy to understand.
Keep an eye here on the blog.  I am setting up a challenge for myself to assure I complete this project and will be blogging my way through it!  You will all be able to hold me accountable for starting and completing this work in progress and not letting it fall to the wayside, like so many other started works.
Can't wait to get started and walk you all through my progress!
Please comment and let us all know about your works in progress, when they were started, and why you have not completed them yet.  I am sure there are a myriad of reasons, and there is nothing to be ashamed of!