Questions to think about:
Are your crafts portable or stationary? Are you able to travel with your projects or do you need to stay in one place to work on them? My thoughts: I don't know about you, but I am always on the go, between my activities and those of my children.  When I do most of of my crafting, even at home, I love having items that are easily portable, so that I don't have to worry about losing my place.
In fact, this weekend is a perfect example.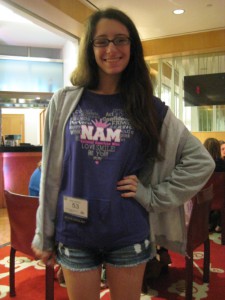 My daughter has participated in the National American Miss pageant for the past 2 years.  This year, due to her school schedule, might be her last, so yesterday, on my birthday, we drove to New Jersey so she could compete again before starting college.  As there will be many hours with nothing to do over the next 2 days, I made sure to have plenty to keep me busy.
My Projects:
I was planning on starting a new project, which I have witten about here in my blog.  I was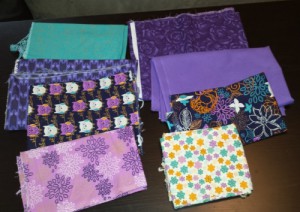 going to start creating a pillow using the English Paper Piecing method of quilt creation.  However, due to time constraints, I was not able to have it ready to go.  The material has been purchased, washed and ironed and the templates have been purchased.  However, I was not able to cut the pieces required to begin the project.  This is on my list for the next couple of weeks, though, after getting my daughter off to college. I do however have 2 projects already in progress and one other to start that I brought with me.
Project 1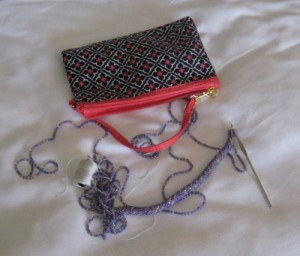 This is a bead crochet necklace that I have started and need to complete.  I am hoping to have the crochet portion complete this weekend.  Items such as this travel well because once the beads are threaded, they fit into a pouch which is easily portable.  I can take it and sit in the hotel lobby and people watch, while working on it. Since I don't have the findings with me, I won't be able to fully complete it, I can finish the main part of it and add the toggle when I get back home.
Project 2
This second project is a scarf that I started ages ago, but just have never taken the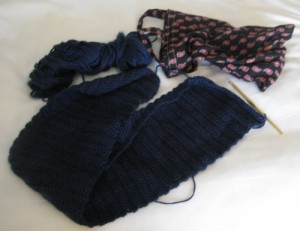 time to finish.  I was actually working on it last night before bed, and found it very relaxing.  After a few rows, I was able to turn off the light and go right to sleep.  Love how soothing the repetitive motion of straight crochet can be. This scarf is also extremely portable, since it fits into a small bag.  If I can finish it, I can post both of these projects on my Etsy store for sale!
New Project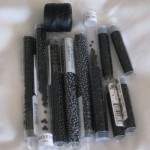 Now this third project is not in progress yet, but has begun.  I have purchased the necessary beads and thread for it, and if I finish the other two, I will be starting it here.  I did bring the beads, thread and a travel bead board with me to start threading them.  This is a necklace that has been commissioned.  This will not be started until the others are done, as I really do need to stop having so many works in progress.
Concluding thoughts
To me having portable projects makes it so much easier to be creative.  I am not restricted by my space, but have the ability to work at will.  Yes, I do have some projects that require more stationary locations, but i also have those that are truly portable, especially after they have been started. What about you? Are your crafts portable or stationary? Are you able to just pick up and go, or are you required to be in one place for most of the time with them? Does it matter to you or are you more comfortable being more stationary? Please feel free to weigh in on this topic.  Looking forward to hearing your ideas.